So, for those of you who don't know (meaning all of you), I have embarked (as of two weeks ago) on a new diet/exercise routine to get in better shape for the summer.
Now, it's nothing extreme and it's completely manageable. For the most part, I'm just cutting calories to around 1750 a day, eating a lot of whole fiber, lean meat and leafy greens (as well as taking vitamins), and getting in 30 solid minutes of sweat 5-6 days a week.
I've been near-perfect on this since the start (with one or two pizza-related flubs), watching what I eat and being moderate, as well as walking instead of taking the subway and doing some in-home work outs every day, and I've already noticed my clothes fitting better and I am super happy when I look in the mirror. I feel like I am starting to see my true shape again, and I really like it!
Now, it's absolutely nothing dramatic. I am a size 4-6 on top and 8-10 on bottom, and though I don't weigh myself, the last time I went to the doctor (a few months ago), I was 140 pounds. I'm 5'6. So I mean, I'm not big by any means. I just want to feel more healthy, more active, and look a bit more toned. I want to feel young and energetic, and really comfortable in my bathing suit. I don't intend to weigh myself through this process (because muscle weighs more than fat, and scales can often be deceptive in weight loss), but I do intend on measuring myself and using a few choice pieces of clothing that are too tight but at one point looked good on me to gauge. It's more about how I feel than anything else.
Because I'm naturally pear-shaped, I want to do everything to keep and emphasize that form. I have a naturally quite big butt/wide hips in proportion to my body, and it's pretty bubbly/cute, all the more so when the rest of my body is rather small. I want to work on whittling my waist and toning my arms/legs, while keeping the overall roundedness of the rest. My body idol is, and has been for a long time, Kristin Davis: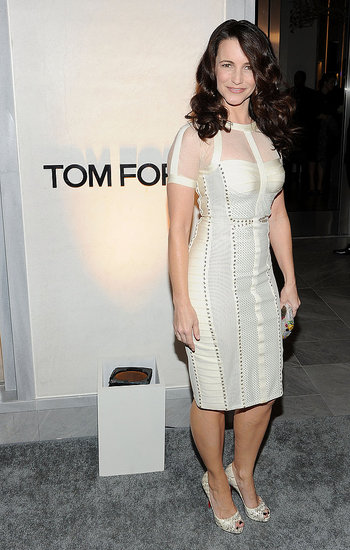 I really feel like she embodies the best I want to achieve with my body type, while still staying reasonable to what I can manage without crazy changes to my lifestyle.
I want to do this in a way where I can maintain it, and it doesn't feel like I'm torturing myself to fit into something. So far it's been going really well, and I'm really happy with the results.
Depending on how I feel, I may be posting a photo or two as I go along, to stay motivated and show off the results! If anyone has any tips or tricks that have helped them with a similar plan, please toss them my way. I'm open to learning anything!